Lembar Profil Atap Membentuk Mesin
Profil lembar membentuk mesin

dirancang untuk produk roog sheet besi.Hal ini terdiri dari 5tons manual decoiler, perangkat makan materi, roll utama membentuk, dan pemotongan otomatis.Hal ini terbentuk dari coil galvaniszed prepainted, warna dilapisi gavalume dll.

Produk akhir dapat dipotong sesuai set panjang kontroler, dan panjangnya secara otomatis diukur oleh encoder. Ketika produk akhir mencapai panjang yang ditetapkan, mesin akan berhenti untuk memotong lembaran secara otomatis. Selesaikan tindakan ini, mesin akan berjalan lagi secara terus menerus. Tidak perlu banyak tenaga kerja.
Lebih sedikit Tenaga Kerja dan Limbah
(Jalankan panel Anda ke panjang yang tepat tanpa membuang waktu dan material
Kerjakan Jadwal Anda Sendiri - Bukan Pabrik
(Saat atap sudah siap - jalankan panel Anda)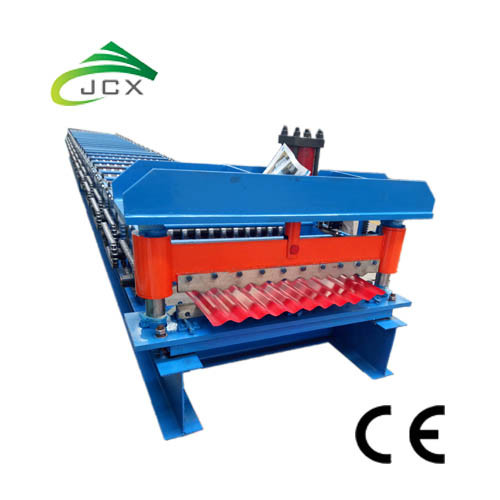 Lengkapi foto o8. Gambar Profil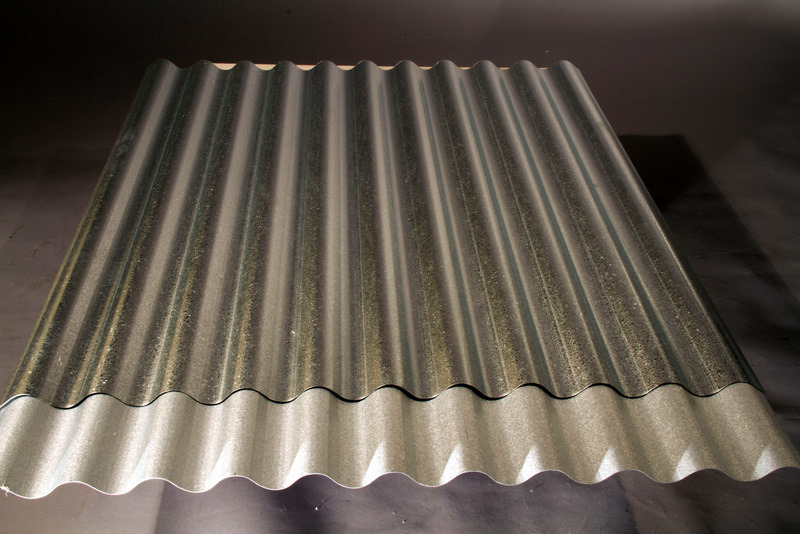 Bahan:

coil galvanis, koil galvanis berlapis warna

Ketebalan material: 0

3.

-0.

8

mm

3) kekuatan luluh gulungan: 250mpa,
catatan:
Jika pelat dengan lapisan, lapisan harus konsisten dengan standar pemeriksaan lapisan yang dilapisi warna yang relevan, seharusnya tidak memiliki kulit mati, sehingga tidak mempengaruhi kualitas roll membentuk.
Jika materialnya adalah baja galvanis, galvanis harus konsisten dengan standar pengujian yang relevan dari baja galvanis, tidak boleh memiliki lapisan seng, sehingga tidak mempengaruhi kualitas pembentukan gulungan.
Arus Kerja & Tata Letak
10
. Memasok komponen
mesin lengkap
NO.

Description

Quantity (set)

Remark

1

7

T

Manual

decoiler

1

2

Guiding device

1

One complete unit as main machine

3

Forming system

1

4

Transmission system

1

5

Hydraulic guillotine

2

6

Support table

2

7

Hydraulic station

1

8

Control box

1

9

Manual collecting table

2

10

Spare parts and tools

1

A

s attaching list
11
.
Parameter umum
No

Item

Parameter

Note

1

Forming Speed

Max

12-15

m/min

Excludes

cutting

2

Forming station

16 or 13 groups

3

Total Power

5.5+4kw

\

4

Total Weight

About 4200

KGS

5

Voltage

380v,

5

0hz,3p

6

Diameter of shaft

70mm

7

Installation Size

13

*

1.1

M

*1.4

8

Sizes of chain

Double 0.6inch chain

9

Thickness of wall structure

18

mm
12
.
Bahan bagian utama
No

Item

Parameter

Note

1

Forming Shaft

45# steel with grinding process




2

Forming Roller

45# steel

with

tempering heat treatment and hard chrome coating

3

Cutting Blade

Cr12 with hard treatment

4

Control System

DELTA

PLC& transducer

,

low voltage:SIEMENS

.

5

E

lectrical motor

From jiangsu

6

Bearing

C

hina quality brand

7

Chain

C

hina quality brand

8

Hydraulic parts

C

hina quality brand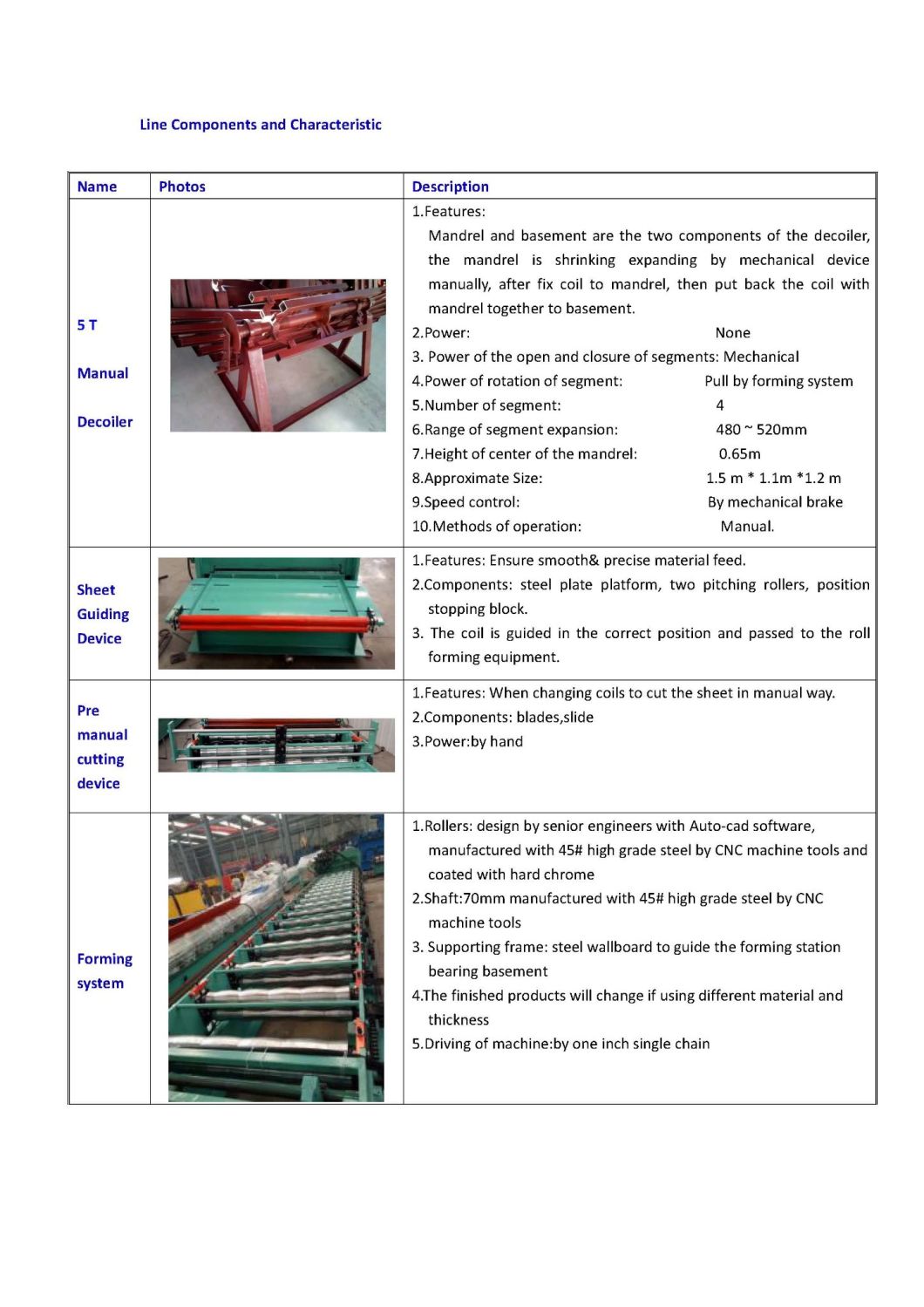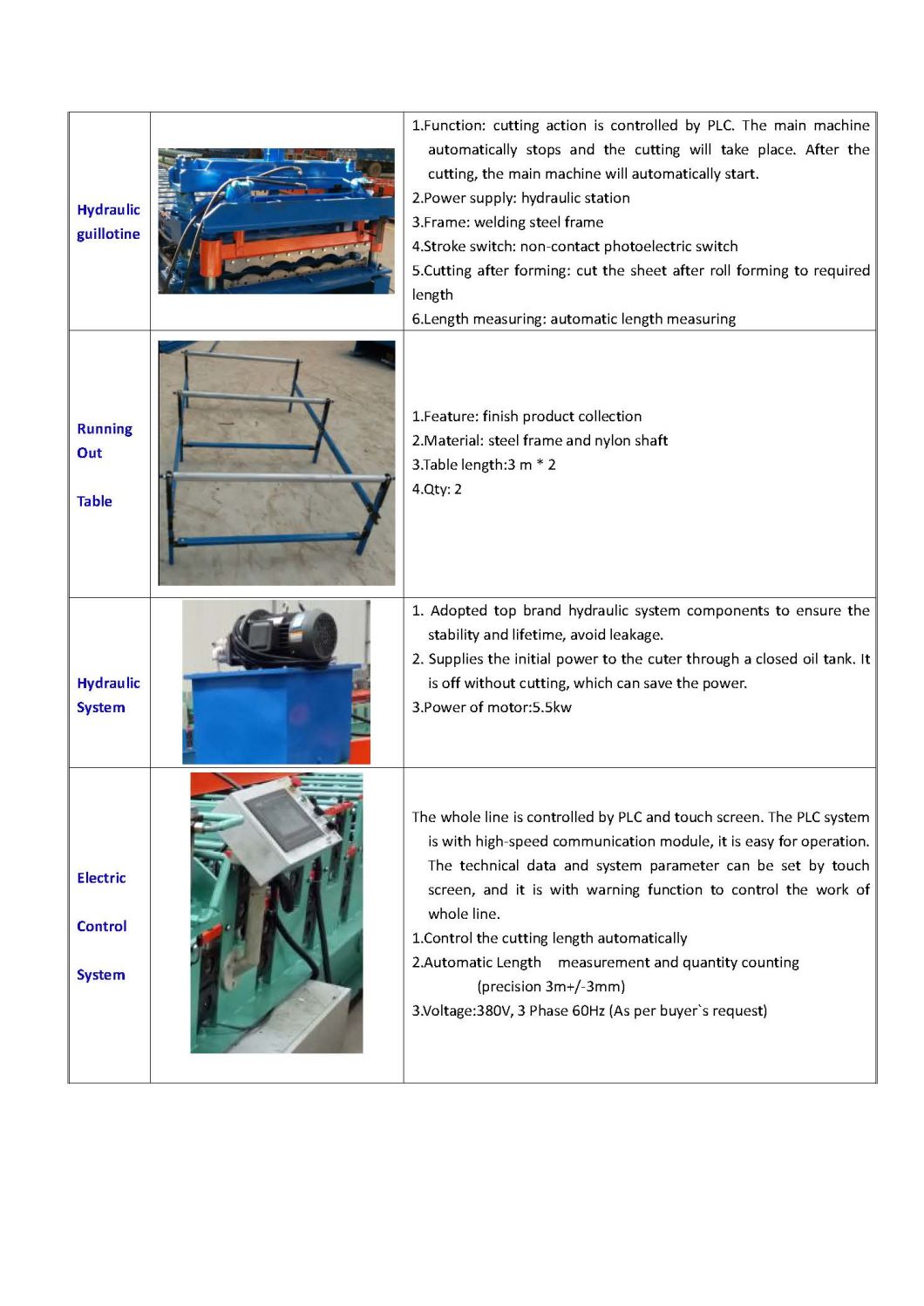 Kategori Produk : Mesin Roll Forming Atap Dan Dinding Panel > Double Layer Roll Forming Machine