Mesin Corrugated Roof Flashing
Logam atap bergelombang berkedip adalah warna dilapisi logam lembaran galvanis yang dibengkokkan pada sudut 90 derajat sekitar 8 hingga 12 inci pada setiap sisi sudut. Ini digunakan sebagai aksesori atap untuk menghindari air masuk ke dalam atap.
Mesin pembentuk kilang logam bergelombang kami adalah mesin otomatis yang menghemat tenaga kerja, satu tenaga kerja cukup. Panjang yang berbeda dapat dilakukan. Ini terdiri dari decoiler manual, mesin pembentuk utama, sistem pemotongan otomatis.
1.
Parameter utama dari mesin flashing
:
P
arameter bahan baku
Material

Thickness

I.D

Yield Strength

Q235




gi&ppgi& galvalume

0.25-0.7

mm

508mm

<=

235mpa
Decoiling → Roll Forming →
Hidrolik memotong
→
Mengumpulkan tabel
2.
Foto
Mesin
membentuk flashing logam
: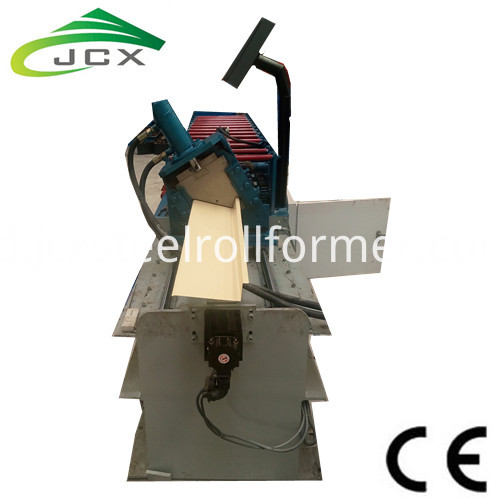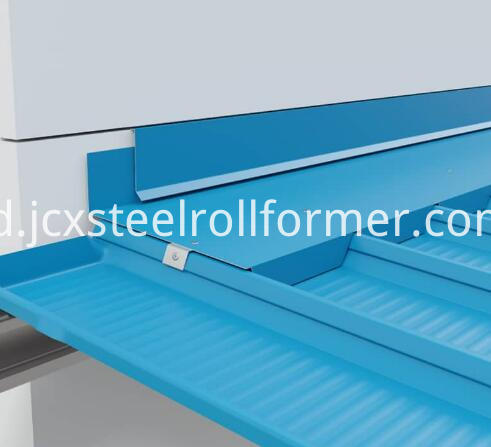 3.
Parameter teknologi:
Berat mesin sekitar
3
.
1
ton.
Dimensi total
mesin
:
6800
(L) * 1
2
00
(W) * 1
5
00mm (H)
3.1 Decoiler manual
:
Kapasitas uncoiler: 5 ton
Perluasan segmen: Manual
Rotasi segmen: Manual
Jumlah segmen:
4
Rentang ekspansi segmen: 480-520mm
Metode Operasi: Manual
3.2
Sistem pemandu
:
Untuk menjaga agar material tetap lurus
Pintu masuk dan roda yang dapat diatur: 2 gulungan
Qty: 1
3.
3
Utama membentuk mesin:
Ketebalan
koil
:
0,3-0,7
mm
jenis motor: 3 phase motor asynchronous
Daya motor utama:
4kw + 3kw
(kecepatan normal),
Kira-kira
13
kelompok roller termasuk
Roller:
S45C
dengan quenching treatmen
t,
Shaft of roller diperlengkapi dengan mesin gerinda selama dua kali untuk memastikan ketepatan produk akhir.
Poros: Diameter poros maks: ø 7 0 mm (pengerasan dan temper)
Jenis transmisi: dengan rantai satu inci
3.4 Pemotongan hidraulik:
Bahan pisau: Cr12Mov, HRC58-62
Pengukuran panjang: Pengukuran panjang enkoder otomatis
Jenis pemotongan:
Pemotongan setelah pembentukan: Potong lembaran setelah menggulung membentuk panjang yang dibutuhkan. Tidak perlu mengubah cetakan untuk ukuran yang berbeda
Cutting gerak: The main mesin automatica
berhenti
l
ly dan pemotongan akan mengambil place.After pemotongan, mesin utama secara otomatis akan mulai.
Kekuatan motor:
3
kw
3.5 Bingkai dukungan produk
Ukuran:
L
3
mx W0.5m
Kategori Produk : Mesin Roll Forming Downpipe > Mesin Pembentuk Berkedip