Mesin Down Down berbentuk persegi
Downspouts biasanya vertikal dan biasanya meluas ke permukaan tanah. Air diarahkan jauh dari fondasi bangunan, untuk melindungi fondasi dari kerusakan air. Air biasanya disalurkan ke saluran pembuangan, atau dibiarkan masuk ke tanah.
Mesin roll downpipe roll , yang dikenal sebagai mesin rollforming downspout air hujan juga, telah dirancang untuk membuat pipa air hujan berbentuk persegi atau bundar (lingkaran atau persegi panjang).
Downspout memiliki banyak nama berbeda seperti, puting beliung, downpipe, cerat drain, dan pipa drainase atap dll. Menurut wiki, downspouts diterapkan terutama seperti di bawah ini:
Tepat pada saat ini ada dua jenis downspout roll membentuk mesin s di pasar ada untuk pembuatan persegi dan bulat rainspouts: Stationary downpipe gulungan membentuk mesin dan Portable downpipe gulungan membentuk mesin.
K Talang Mesin Roll Forming
Mesin Roll Forming Untuk Talang Hujan
Mesin Roll Forming Dingin
Downpipe Talang Hujan
Talang Setengah Setengah Mulus
Talang Hujan Setengah Bulat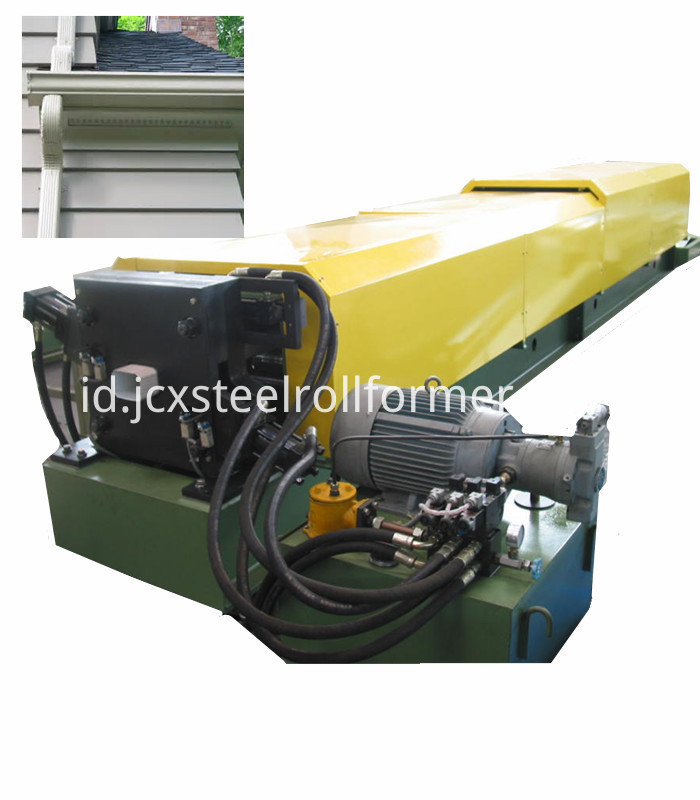 Bahan peralatan utama:
No.

Main parameter of steel pipe roll forming machine

1

Suitable to process

Color steel plate

2

Width of the plate

As customer need

3

Thickness of the plate

0.5-0.8mm

4

De-coiler

Manual one, can load 3 tons raw material

5

Rollers for forming

19 rows

6

Diameter of the roller

Φ60mm

7

Rolling material

Carbon Steel no. 45

8

Main motor power

5.5kw

9

Productivity

8-10m/min

10

Cutting method

mold cutting

11

Material of the cutting blade

Cr12

12

Hydraulic cutting power

3kw

13

Processing precision

Within 2.00mm

14

Control system




Panasonic PLC control

15

Main structure of the machine

300 H steel

16

Weight

About 7.5T

17

Dimensions

17*1.2*1.4m

18

Voltage

380V 50Hz 3phases(changeable as needs)
Bahan roller: NO kelas tinggi. 45 baja tempa, berlapis krom keras pada permukaan roller dengan ketebalan 0,05mm.
Bahan poros aktif: Kelas tinggi NO. 45 baja karbon tempa dengan diameter 72mm.
Pisau pemotong: Baja cetakan Cr12 dengan perlakuan padam.
Mereka banyak digunakan sebagai atap taman seperti pabrik, hotel, pusat pameran, villa, konstruksi sipil, dll.
Kategori Produk : Mesin Roll Forming Downpipe > Mesin Roll Forming Square Downpipe