Adjustable CZ Purlin Cold Roll Forming Machine Pemasok
Gambar Produk: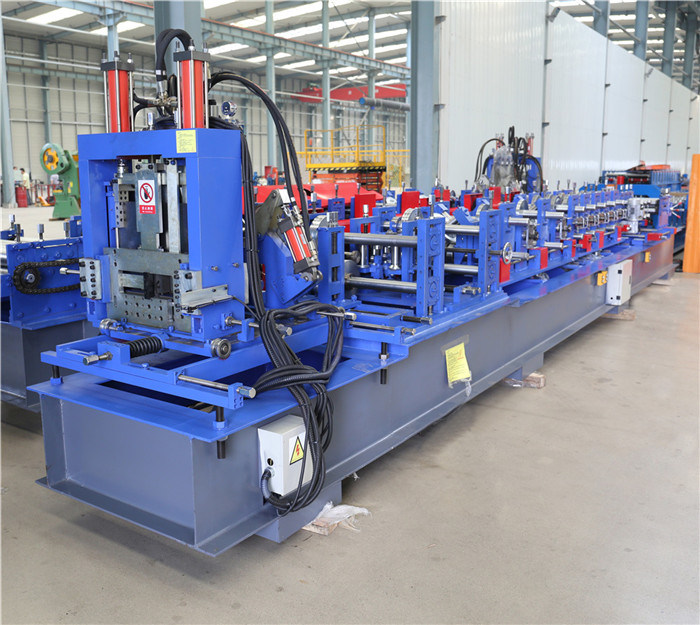 2. Detail: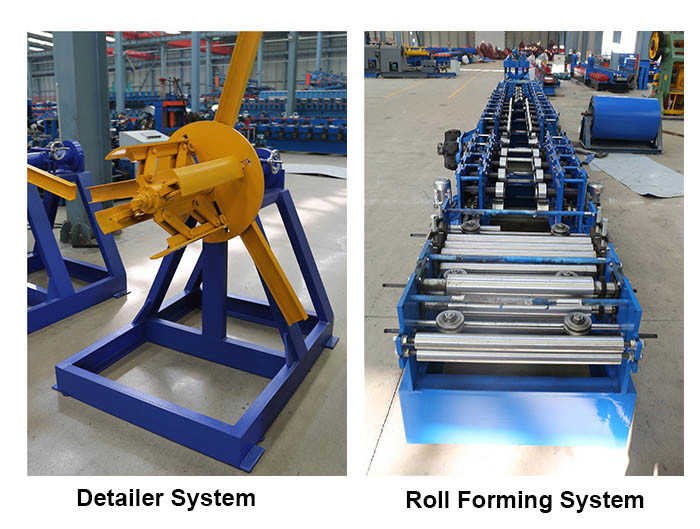 Sistem Decoiler:
Penggunaan: Penguraian pasif ditarik oleh sistem roll forming, mendukung kumparan baja dan mengosongkannya dengan cara turntable.
No :

Decoiler System Main Parameter :

1

Loading capacity

1.5-3.0T

2

Uncoiling width

300-1000mm

3

Inner diameter

450-550mm
Roll Forming System:
Penggunaan: Untuk menjaga bentuk dan presisi produk, mengadopsi struktur lembaran yang dilas, motor reducer drive, transmisi gigi (roller pertama dan terakhir, roller bawah harus dipasang dengan yang atas dengan gear drive.), Permukaan rol polishing, hard plating, perlakuan panas dan pengobatan galvanizational. Permukaan yang dipoles dan perlakuan panas terhadap cetakan juga dapat menjaga permukaan pelat cetak halus dan tidak mudah untuk ditandai ketika sedang dicap.
No :

Roll Forming System Main Parameter :

1

Length of the main part

about 3000*1000*400-8800*1500*1200

2

Weight of main part

3-8 tons

3

Voltage

380V/50HZ3Phase (as customer's request)

4

Roller fixer

guide column

5

Frame

steel plate welded/ Memorial arch frame type

6

Frame thickness

25mm

7

Drive mode

gear

8

Material of rollers

GCr15MoV

9

Material of shafts

45# steel with tempering

10

Diameter of shafts

φ40mm

11

Number of rollers

10-16 rollers

12

Main power

3-11kw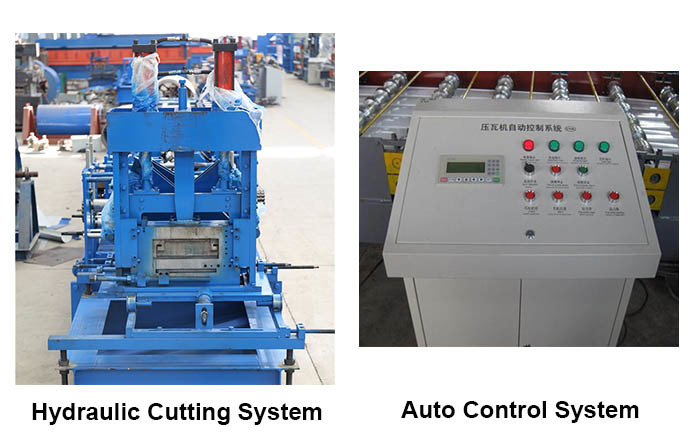 Sistem Pemotongan Otomatis:
Fitur: Pemotongan otomatis dikontrol oleh PLC. Pastikan stabilitas, presisi, dan kecepatan potong. Ini mengadopsi penggerak hidrolik dan lokasi otomatis untuk menentukan dimensi dan memotong produk target. Ini berisi satu set alat pemotong, satu tangki hidrolik dan satu mesin pemotong. Stasiun hidrolik dikendalikan oleh pompa oli roda gigi. Setelah mengisi oli hidraulik ke dalam tangki oli hidraulik, pompa menggerakkan mesin pemotong untuk memulai pekerjaan pemotongan. Sistem ini mencakup satu set tangki hidraulik, satu set pompa oli hidraulik, dua pipa hidraulik dan dua set katup elektromagnetisme.
No :

Cutting System Main Parameter :

1

Material of blades

Gcr12MoV quenched

2

Power supply

hydraulic power

3

Frame

Pillar style with rack & pinion system

4

Stroke switch

non-contact photoelectric switch

5

Hydraulic motor Power

3-5kw

6

Hydraulic oil:

46#
Sistem Kontrol Elektrik:
1. Adopsi PLC, transduser, panel sentuh dari Delta Taiwan untuk memastikan kecepatan tinggi dengan stabilitas, presisi, dan masa pakai.
2. Elemen listrik lainnya adalah Delta.
3. Dilengkapi dengan switch bergerak, jeda udara, radiator, trafo & pelindung kebocoran listrik untuk kenyamanan dan keamanan operasi.
Produk penerima tabel:
Ini mengadopsi baja dilas dan didukung rol untuk mengirimkan produk.
informasi perusahaan
JCX (Golden Integrity Roll Forming Machine Co, Ltd) adalah perusahaan yang mengkhususkan diri di bidang mesin roll forming dingin dan pengolahan lembaran logam. Kami sedang mengembangkan berbagai mesin cold roll forming untuk pembuatan genteng, rangka logam langit-langit dan mesin pipa las, yang digunakan dalam bidang-bidang berikut seperti industri konstruksi, industri otomotif, industri pengepakan. Pabrik JCX dibangun pada tahun 2000 dan mesinnya telah terjual lebih dari 70 negara, jadi tolong percaya kami. Bersama kami, ciptakan dunia gulungan dingin Anda sendiri.






Kemasan & pengiriman:
1). Pengemasan kontainer dari jalur yang cocok untuk pengiriman luar negeri
2). Subjek dapat dimuat dalam satu kontainer 20 '.
3). Paket gaya: Ditutupi oleh film plastik, suku cadang dan beberapa bagian kecil yang dikemas dalam kotak karton.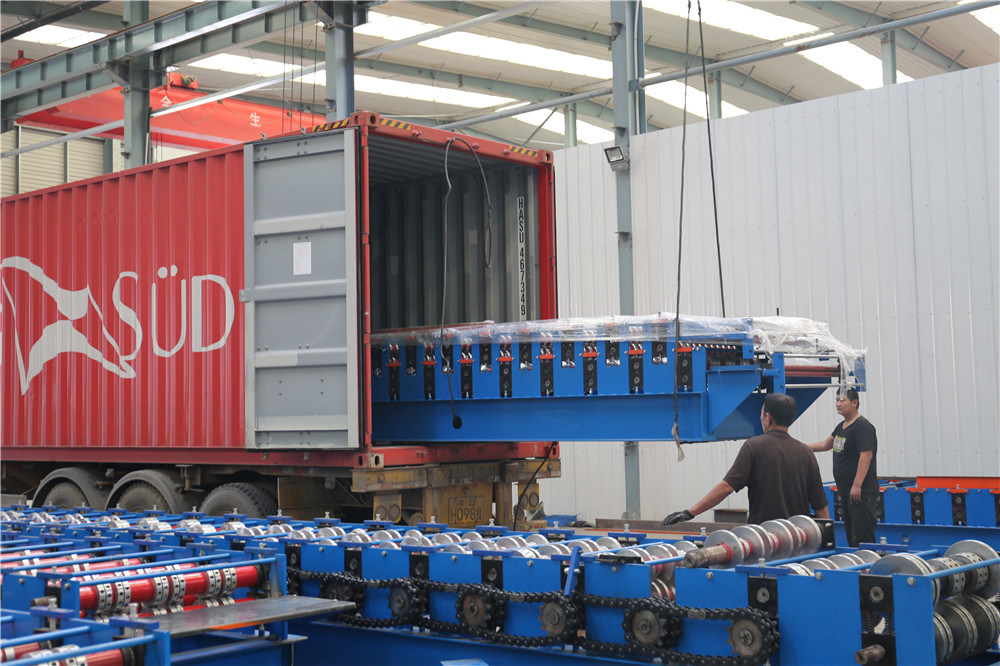 Pelayanan kami:
♦ JAMINAN:
12 BULAN JAMINAN. JIKA BEBERAPA BAGIAN DARI MESIN INI MERUSAK.KAMI AKAN MENYEDIAKAN BAGIAN TERBAIK, TETAPI JIKA RUSAK KERUSAKAN AKIBAT KESALAHAN OPERASI, PEMBELI AKAN MEMBAYAR BIAYA PENGIRIMAN.
♦ LAYANAN AFTER-SALE:
KAMI MENGIRIMKAN TEKNISI KE NEGARA ANDA UNTUK MEMPERBAIKI MESIN. PEMBELI SEHARUSNYA BERBAGI SEMUA BIAYA TERMASUK: VISA, TIKET ROUNDTRIP DAN AKOMODASI COCOK, JUGA PEMBELI HARUS MEMBAYAR SALURAN 100USD / HARI.
Sertifikasi: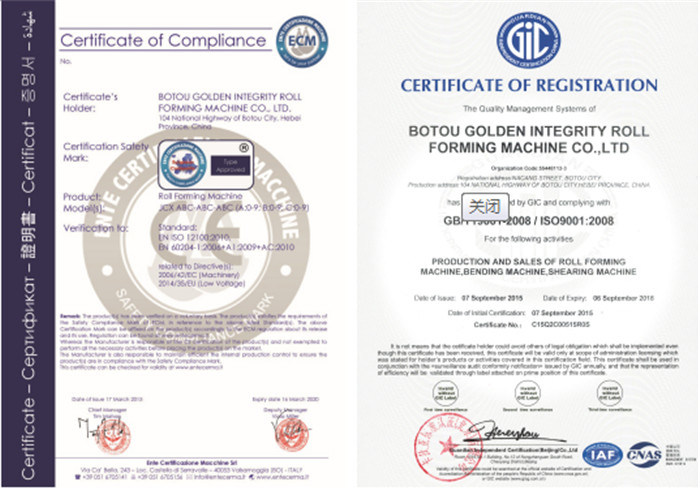 Kategori Produk : C / Z Purlin Roll Forming Machine > CZ Purlin Roll Forming Machine